| | |
| --- | --- |
| THIS IS PRECIOUS TOBY, BLOSSOM & SPARKYS BABY. | THIS IS DEBBIE TILEY WITH HER BABY TOBY, HE SURE IS BEAUTIFUL DEBBIE, THANK YOU FOR GIVING MY GANDBABY SUCH A WONDERFUL HOME. |
Hi Sheila,

I have been meaning to send you an e-mail for some time now. I bought a little boy from you back in September. This little guy has brought me so much joy! I have pictures of him on my desk at work just so I can look at him to make me smile. We named him Toby. He only weighs about 6 pounds. He loves to wear his cute little shirts and sweaters:) I took him to puppy class at Pet Smart and he graduated. He loves his trips there. See the pictures. After he graduated they had play time with the tunnel and the limbo bar. I am attaching some pictures for you. I knew you would love seeing your grandpuppy. Hope all is well and thank you for this little guy!!!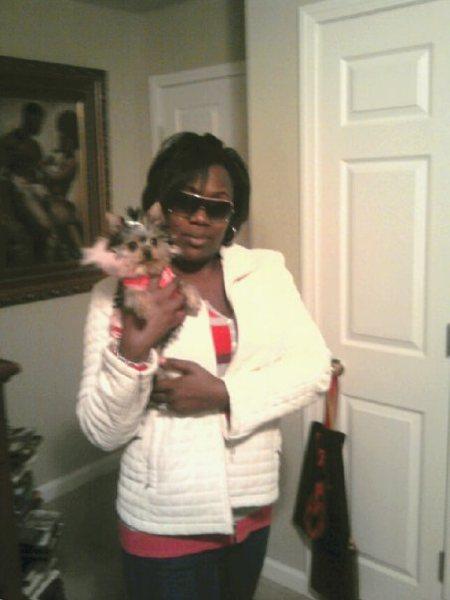 THIS IS LASHONDA DEWALT WITH HER NEW BABY CHEYENNE. THANK YOU SO MUCH FOR GIVING MY GANDBABY A WONDERFUL HOME.
Hi Grandma,

I love the family that you picked for me. I am reaching 6 months old and I am only 2.7lbs. My doctors says that I am very healthy and one of the best looking yorkies he as seen in a while. My mom says that even though I am very small I have such a large personality and she cant see her life without me now. I have my own carrier and mom takes me everywhere from the mall when we have daddy's credit card to the grocery store. Each day mom and I coordinate to make sure we are matching. My favorite color is pink and its my mom's favorite color too!

Love Cheyenne

P.S. Sheila thank you so much for giving us such a perfect baby. She makes me laugh everyday and when at times I am feeling down she looks at me and comes and give me kisses. She is worth so much more to me as I couldnt put a price for such a great addtion to our new family. Even though she is a daddy's girl, we have so much fun together. I cant explain what a treat she is, I fall in love with her more each and everyday. I would hope that other breeders would take as much care as you have.

Thanks,
LaShonda and Charles

Hi SHEILA,
The Jones Family is truely enjoying Harley!
He is a hoot and full of suspense. We never know what
he"s gonna trick us and do next. So far Harley has been
very healthy and very much alert! and we"d like to say
thank you for raising such healthy babies!

Thanks,
The Jones Family
| | |
| --- | --- |
| THIS IS QUINCY FERLIM.JUST ANOTHER ONE OF MY GORGEOUS GRANDBABY. | THIS IS CONNE FERLIM,QUINCYS MOM WITH SISTER NATALIE. THANK YOU FOR LOVING QUINCY SO MUCH. |
Dear Sheila,
Bill and I are absolutely thrilled with Quincy.
He is just so precious and loveable and loves to be cuddled.
We love to watch him play with all his toys. He is quite a
character already. He has a wonderful personality.Quincy
is very active,and not laid back at all. He just hops
around like a bunny all over the house. He is so spoiled already.
We got him a little blue bed and he just bounds into it and fluffs
his pillow with his little paws. He is already filling the hole in
my heart. We love him so much. Thank you for being so
compassionate. I know how much you love your Yorkies.
It shows in the way you take care of all your little babys.
Everyone of them are just gorgeous. Quincy may need a
little brother someday and we surely will not hesitate to
come back to visit you.
Love,Connie



Sheila,
Just writing to let you know that Chloe is doing well and has brought so much happiness to Katy and I.
Everytime we come home its just like Christmas Eve day of 2008 that we picked her up. She has such a loving
and playful personality, and she learned to sit, down, drop, shake, and roll over within 2 days of each other
when she was just 10 weeks old! I was surprised at how early and quickly she was able to learn.

We appreciate your diligence in the process of getting Chloe. You were extemely kind, caring, and helpful.
We will recomend any people to you that we come across. I hope you are doing as well as Katy and i,and the
one who rules our home, Chloe! Yep, she runs the house now,

Sincerely,
Ryan and Katy Motsenbocker

| | |
| --- | --- |
| PRECIOUS CHLOE | CHLOE WITH DADDY ON A CAR TRIP. THANK YOU SO MUCH RYAN & KATY MOTSENBOCKER |

Sheila,

Thank you so much for Sadie.She is so
precious and loving. She has not had any
accidents in the house,and has been extremely
playful with our shitzu.If i ever bought another dog
it would be through you.You are so sweet and
understanding,and it shows that love your babies
and care about where they go and i love you for that.
Thank you so much,we are so happy with her.

Thank You
The Fairhurst Family

PRECIOUS KATE


Hi Sheila,
I got your message and returned your call.
Kate is sweet, even tempered, snuggly, absolutely
adorable in every way. Our Veteranarian here in
Hopkinsville said she was in perfect health and an
excellent example of the Breed. She is eating well,
and already knows her name.When we got her she
was clean and well groomed.She is very quite at night
in her crate with our Pomeranian Korbal.
Best Wishes,
Jennifer Morgan



My Grandbaby Cody

Sheila,
Thanks again for our boy Cody.Betty and I are realy getting
attached to him-FAST. He recieved an excellent report from the
Vet this morning, and our Vet realy comended you for, as he put
it, "realy having all your ducks in order," meaning , of course, that
you are doing a great job of raising all those Yorkie Babys. Thanks
again and hope you enjoy the attached pictures of Cody,
Sincerely,
Ed Meadows


Website powered by Network Solutions®